Skip to Content
AC Installation for Birmingham and the Surrounding Areas
Has your air conditioner decided to stop working or have you noticed a recent spike to your energy bills monthly? It may be time to replace your old unit and have Midsouth Installers Heating & Cooling provide you with AC installation services. We work with any and all models. Our technicians are kept up-to-date on all the latest technologies offered in the HVAC industry. We make sure when you look for a new unit you get the best one possible for your space and for your needs throughout the Alabama summer. We all know how hot it can get, so let us use our experience and knowledge in the field to help you find and get your AC installed today.
For two decades, our professional technicians have helped those in need of a new air conditioning unit find peace and comfortability all while saving money monthly. A new air conditioner can help reduce your energy costs by being more efficient with its services and performance. Call us today and we will send out a licensed, insured, and N.A.T.E. (North American Technician Excellence) team member to provide a free consultation. After they discuss your home's needs, they can give you a free estimate as well for our flat-rate services.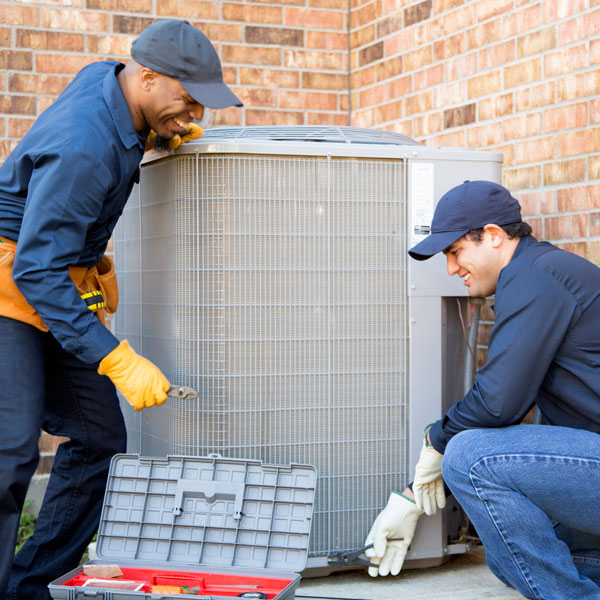 What Does the AC Installation Process Look Like?
Whether your AC installation services are needed for an existing home or a new build, we can help get your space comfy in no time. During our free consultation, we will build a plan as to how we get the appliance into your home easily and efficiently. All of our service providers also come insured to help give you peace of mind for your air conditioner and your home. We ensure everything is connected correctly and all of your ductwork lines up to deliver cool air all through your home. Our team also removes your old unit and recycles your old refrigerant in an environmentally-friendly way. After all electrical connections are made and fluids are replaced, we run thorough tests to complete your AC installation. If you have questions or concerns during or after, please let us know. We will show you how to maintain the system and work it appropriately while we're away. You can rely on us to stick to our schedule and communicate any updates or changes to the services we estimated.
Signs It's Time for a New AC
If you are unsure if you need to replace your air conditioner, call Midsouth Installers Heating & Cooling to have a professional come to your home to assess your current unit. Our professionals come prepared to study any make or model and to look for signs of it needing to be replaced as opposed to being repaired. You can count on us to always offer the most cost-effective solution. We don't pressure our team to upsell our customers because we treat them like neighbors. Below are some signs you can look out for at your home to help decide if you need to shop for a new air conditioner:
Inconsistent airflow
Warm air instead of cold blows from vents
Repairs are more expensive than replacing
A rise in monthly bills
Your air conditioner is older than 10 or 12 years
A build-up of moisture around the unit
Strange sounds or weird smells coming from the unit
If you have to repair more than once a year
Inconsistent cooling in different rooms
Benefits of Having a New AC Installed
There are many benefits for you to enjoy when you hire Midsouth Installers Heating & Cooling for AC installation services. Outside of getting the cool air flowing all around your home, you can rest easy knowing your new unit was installed by a professional and all the connections were done correctly. It should perform for years to come with uninterrupted services, especially when you sign up for our AC maintenance package. Below are some more benefits you will see as soon as we finish our AC installation services:
Lower monthly bills
Improved indoor air quality
Fewer repair bills
Increased home value
Lessen your carbon footprint
Call the Professionals at Midsouth for AC Installation
When you're ready to purchase a new air conditioner, rely on Midsouth Installers Heating & Cooling to help find you the perfect unit and provide AC installation services to ensure its functionality. We have helped Birmingham, AL and surrounding neighbors for 20 years. They have come to rely on our services because they know we provide them with free consultations and estimates. We're able to complete AC installation and maintenance or repairs on any system we bring into their homes. Call today to have us help you assess your old unit and find a better and more energy-efficient AC unit to save you money and bring you comfort throughout the Alabama summer. Don't forget, we also help remove your previous unit!
Call Us Today to Schedule a Free Consultation